Automated Food Labelling: Twice as Fast as Manual Labelling with Andy!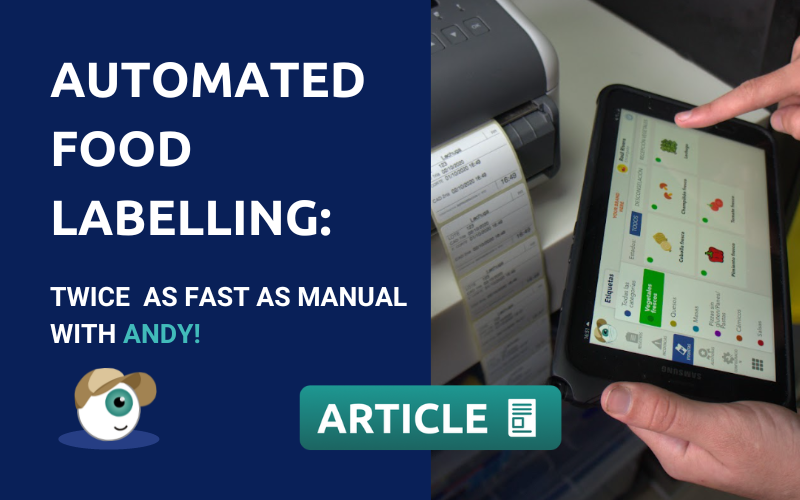 It's been proven!
We witness it every day in the thousands of restaurants currently benefiting from the powerful combination of Andy/Brother for automatic labelling.
And this video demonstrates it all.
The time your employees spend manually labelling is significantly greater compared to the time spent food labelling with Andy and Brother.
The following video shows the difference in quantifiable terms:
Hand Labelling your Food Expiry Dates
Imagine the person hand-labelling in the video is one of your employees, trying to find a moment between material reception, mise-en-place, the flurry of service, etc., to manually label expiry dates on arriving and prepared products.
It's no wonder their hand (almost) trembles!
Even though they are trying their best to label countless items on shelves with utmost diligence and as quickly as possible, the video demonstrates it takes around 17 seconds to prepare multiple labels.
Not to mention the errors that occur!
And let's not forget that in 34 seconds, only the primary labelling of the product is covered.
What does that mean?
It means that incorrect labelling due to the pressure employees face, combined with ordinary human errors and the lack of secondary expiry labelling on your food items, jeopardises your customers' health.
It also jeopardises your restaurant's reputation and financial health.
Automated Food Labelling
What's happening on the other side of the screen while your employee frantically fills out as many labels as possible?
On the right side of the screen, in the restaurant that has automated their expiry labeling processes, an employee instructs Andy about the products to label, along with the dates…
Our digital assistant Andy then gives Brother the instruction to print the specified labels…
And in just 17 seconds, Brother prints the requested "string" of labels!
These labels clearly indicate both primary and secondary expiry dates of various food items.
Labels that eliminate the possibility of confusion.
The very real possibility of errors.
And the risk of bacterial contamination.
Not Automating your Food Labelling is Costing you Money!
As the video demonstrates, not automating expiry labelling in your kitchen results in wasted hours spent on repetitive tasks that burn out employees…
And that's wasted wages and untapped talents.
Continuing with manual food labelling means continuing to work with errors that cost time and money.
It means incorrectly labelled food that ends up being wasted.
And it means questionable traceability processes that can negatively impact your brand's reputation and finances.
Multiply all these risks and wastages across different establishments you manage, and the compelling need to transition to automated expiry labelling processes becomes even clearer.
Brother and Andy are the perfect combination to help you save time and money – two essential assets for any modern restaurant!
Andy App: A lot more Than Just Expiry Labelling
In addition to the seamless coordination between Andy and Brother,  Andy App assists you with many other aspects of your business' food safety processes:
Digital HACCP
Digitise your cleaning and hygiene records, maintenance logs, temperatures, and any checklist compliance. Guide your team and ensure procedures are carried out in accordance with the law.
Incidents
Automate incident reporting with corrective action plans. Resolve non-conformities faster and instantly know the response in your establishments thanks to notifications.
Audits
Initiate audits with customisable scores. Control access and gather all inspections in one place.
And a lot more!
Try Andy now and discover the many benefits of having this helpful Food Safety digital assistant in your kitchens!
👉🏽START 100% FREE HERE!👈🏽